Since 2012, the local community in Kampala and the surbub have always looked forward to the Easter holiday when they can keep their eyes locked onto the screens and to the stage to get a glimpse of this once in a year production. All roads lead to the Gaba Community Church auditorium for this life changing drama.
"Battle For The Soul" is a musical play, portraying the life of Christians and non-Christians in society. There is a degree of complacency that has devoured the church of true Christian living. It is in this context that I teamed up with a local church and developed a concept for a stage play, thus; some facts and truths have to be understood if one has to understand the concept of "Battle For The Soul".
John 3.16 clearly says that "For God so loved the world that he gave his only begotten son that whosoever believes in him, shall not Perish but have everlasting life". This has been the centre of focus for most preachers of the gospel.
One thing that always kept me wondering was whether it is true that once someone got saved he will always be saved, thus the concept "Once Saved Always saved." This is an existing theory as I read from one of the internet blogs and I kept wondering.
The Devil has established a lot of strategies to try to confuse the church and people who might want to get saved. He has actually made it seem as though it is okey to just get saved and take life as it is. Well, life has to be enjoyed to the fullest. But check this out – Evangelical Outreach does not teach a works salvation or legalism. Those are some of the common false accusations and misconceptions about a conditional security used to smear us. Dan Corner teaches we are saved by grace (Eph. 2:8,9) but we can fall from grace (Gal. 5:2-4). We are justified by faith (Rom. 5:1) but our faith can become shipwrecked (1 Tim. 1:19,20) and cease to exist (Lk. 8:13; Rom. 11:19-23).
We are not under the law (Rom. 6:14,15) but if you live according to the sinful nature you will die (Rom. 8:13).
Paul taught against legalism (Gal. 5:3,4) but he also taught that no immoral, impure or greedy person has any inheritance in the kingdom of Christ and of God (Eph. 5:5-7).
We are not saved by works (Eph. 2:8,9) but to reap eternal life and not destruction you must sow to please the Spirit and not the sinful nature (Gal. 6:8,9).
God is faithful to us (1 Jn. 1:9; 1 Cor. 10:13) but we must be faithful to him to the very end of our lives to escape the lake of fire or second death (Rev. 2:10,11). God surely loves us (Jn. 3:16; Mk. 10:21; Rom. 8:35-39) but those who inherit the kingdom of God love God (Jam 2:5; 1 Cor. 2:9) and to love God means to obey his commands (Jn. 14:15; 1 Jn. 5:3).
We have freedom in Christ (Gal. 5:1) but this freedom is not to indulge the sinful nature (Gal. 5:13; 1 Pet 2:16). God is to be obeyed and feared. http://www.evangelicaloutreach.org/eternal-security.htm
From all this, I discover there is great need to channel the gospel to shake up the church a little bit. I know that most churches do not prefer to have a sort of criticism. But brethren, how can we prosper when we do not want to openly discuss our problem. The devil is on the move to blindfold the church. Wake up. It is a Battle For The Soul.
It is upon the basis of this fact that i discovered we could start using creative arts to communicate to both Christians and non-Christians about the need for the Salvation of our Souls.
We have to be alert. Christ did not die in vain, He died so that we could be saved, so we have to work out our salvation with trembling and fear so that we can make it till the end.
I am glad to also acknowldge that being the first time to present "Battle For The Soul" at Gaba Community Church, many people came to realise the need to give their lives and recommit to serving God in Truth.We are proud to say that "Battle For The Soul" has now become an annual event. It will be be a week long event starting 2013.
If one ever looks out for an arena to give back to God wholesomely, then it is the right choice to discover what God requires you to do so as not to lose your soul to the devil.
Any how, what does it profit a man to gain the whole world and lose his soul (perish in hell?). The right thing to do is to give your soul back to God. Accept Jesus to be your personal Lord and Saviour. Remember that the battle you are fighting is not a carnal battle, it is a Battle For Your Soul.
Come 2013 and all proceeding years, battle for the Soul will be a week long activity. Each year there is a specific theme that the musical play is set to run.
Thumbs up for Jesus.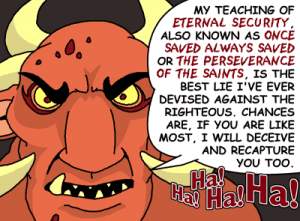 The Eternal Security Timebomb. The Devil's Masterpiece